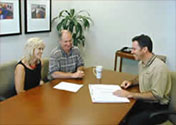 As part of Clyde Miles Construction Companys efforts to simplify the home buying process, you'll find
CMG Financial
, our preferred lender, offers a number of significant advantages over other mortgage companies:
HELPFUL MORTGAGE TERMS - Click here
This calculator will compute the approximate total monthly payment based on Loan Amount, Amortization Length, and Interest Rate. To use the calculator, type over the default values (please do not use commas or dollar signs anywhere) and press the "
Calculate Now!
" button.